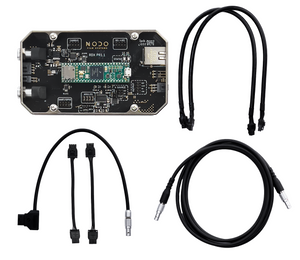 Description
The RDX for Libra enables Inertia Wheels control the full line of Libra Remote Heads.
This is great for operators looking to control multiple remote heads in a single shooting day, and/or for operators that want to the precision/control of the Adjustable Mass of the Inertia Wheels.
Workflow
The Inertia Wheels send a digital signal to the RDX which converts the data to A/B encoder signals that are properly scaled for the Libra head.
From there, a custom cable needs to be made for the encoder signals to be input into connector on the rear of the Libra Console. Cable not included.
Using the Libra's user interface, the pan and tilt axises can be mapped to be controlled by the Inertia Wheels. 
There are two methods of communicating with the RDX.
AUX Cable
Using the included AUX cable, the Inertia Wheels can directly connect to and power the RDX with one cable.
Wireless
Using the included 4-Pin Cable the RDX can connect to the Inertia Wheels Receiver and the PTAP cable can be connected to a batter to power the RDX/Receiver.
Includes
RDX Box
RDX Firmware for Libra Pre-Installed
PTAP to 2-Pin Power Cable
AUX Cable for connecting directly to the Inertia Wheels
2x 4-Pin Receiver cables for wireless connecting to the Inertia Wheels' Receiver
2x 6-Pin to 6-Pin cables which can be re-worked/soldered to connect the Libra head
Jeti Radio module preconfigured for Transmission
Limitations

At this time, the RDX can only support two axises of control. So pan/tilt, tilt/roll, or roll/pan only. 

Effects and Playback/Record are supported, however only applied in 2-Axises and only via the Wireless Receiver. 
Pin Out

This pin out was verified with a Libra Head and cable provided by Pro Cam Rentals in Los Angeles. No certainties that it is accurate to all cables. 
| | | |
| --- | --- | --- |
| 6-Pin Molex Pin | Signal | Libra Cable |
| 1 | GND | Black |
| 2 | NC | - |
| 3 | Pan Encoder A | Gray |
| 4 | Pan Encoder B | White |
| 5 | Tilt Encoder A | Yellow |
| 6 | Tilt Encoder B | Red |