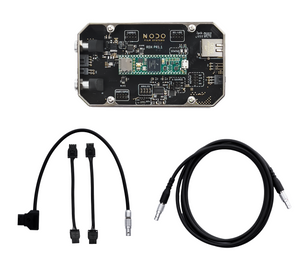 Description
The RDX for Sony FR7 enables Inertia Wheels control the Sony FR7 Camera. 
Workflow
The Inertia Wheels send a digital signal to the RDX which converts the data to VISCA Protocol.
From there, VISCA data is sent over ethernet to the IP address of the Sony FR7. It can be directly wired to the FR7 or located on an IPv4 network with the FR7. 
There are two methods of communicating with the RDX.
AUX Cable
Using the included AUX cable, the Inertia Wheels can directly connect to and power the RDX with one cable.
Wireless
Using the included 4-Pin Cable the RDX can connect to the Inertia Wheels Receiver and the PTAP cable can be connected to a batter to power the RDX/Receiver.
Includes
RDX Box
RDX Firmware for Libra Pre-Installed
PTAP to 2-Pin Power Cable
AUX Cable for connecting directly to the Inertia Wheels
2x 4-Pin Receiver cables for wireless connecting to the Inertia Wheels' Receiver
Limitations
Effects and Playback/Record are supported, however only applied in 2-Axises and only via the Wireless Receiver. 
Other Requirements
This kit does not include an ethernet cable which is necessary.