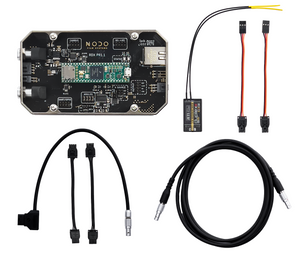 Description
The RDX for Trinity/Maxima enables Inertia Wheels control of the ARRI Trinity 1 and Maxima gimbals via an included Jeti Radio.
Workflow
The Inertia Wheels send a digital signal to the RDX which converts the data to signals which are compatible with the built-in receiver of the ARRI Trinity 1/Maxima.
There are two methods of communicating with the RDX.
AUX Cable
Using the included AUX cable, the Inertia Wheels can directly connect to and power the RDX with one cable.
Wireless
Using the included 4-Pin Cable the RDX can connect to the Inertia Wheels Receiver and the PTAP cable can be connected to a batter to power the RDX/Receiver.
Includes
RDX Box
RDX Firmware for Trinity/Maxima Pre-Installed
PTAP to 2-Pin Power Cable
AUX Cable for connecting directly to the Inertia Wheels
2x 4-Pin Receiver cables for wireless connecting to the Inertia Wheels' Receiver
2x 6-Pin to 3-Pin Jeti Radio Cables
Jeti Radio module preconfigured for Transmission
Trinity 2 Notice
We do not yet know if this works with the Trinity 2 gimbal.